BATULAO
The name Batulao was derived from an annual phenomenon observed by the locals. From the town of Balayan, one can see twin mountains to the east that appear quite distant from each other. But the same scene viewed from Batulao is curiously different.
The same mountains seem to move closer. More fascinating is the fact that some time between December 22 and 28 every year, when the sun nestles right in between the two peaks. It creates a scene described by natives as "ilaw sa dalawang bato" (light in between two rocks) or "bato sa ilaw" (light in a rock), from which derived the term Batulao.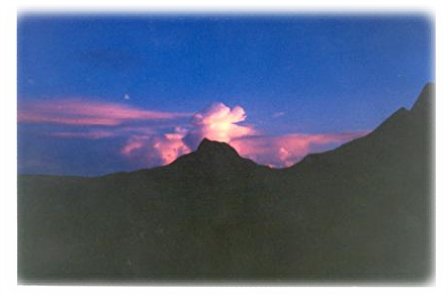 Climbing Batulao can be done any time of the year. From Manila, take a bus going to Nasugbu, Batangas. After passing by Tagaytay City, some minutes later you will be passing by a junction then the Evercrest golf course. Alight and enter Evercrest. This is the same route to the Don Bosco Spiritual Center, which is a retreat house run by the Salesians. Follow the paved road, which eventually turns left. Continue with this road and after reaching a major junction, take the one on your right. You will be passing by houses until you reach plantations. Since there are many houses, trails are also numerous leading to these houses and small villages so keep gathering information from houses and from the people you meet along the trail. Camp is usually set up along the lower slope of Batulao since summit is small and has no cover for protection. Summit assault is usually done the next day except if you want to witness the spectacular sunrise.The climb to the peak is via a very steep trail.The upper part of Batulao resembles more of Mt. Guiting Guiting with its jagged saw-toothed peaks.